Which Key Features Must Your Persona Include?
Personas are a well-established marketing technique to help produce more customer-focused communications. They can be applied to both business-to-business and business-to-consumer markets. However taking a look at how marketers search for information about personas in Google Trends shows that there are a relatively low volume of searches.
You can see there is a clear up-tick in interest in personas over the last few years which I think is related to interest in content marketing for which personas are often recommended to generate relevant personas for different audiences.
In this article I will introduce the value of using personas which we're big fans of using to create more personalised email and web-based conversations with prospects as part of marketing automation.
The benefits of buyer personas for content marketing
To support content marketing initiatives, personas are valuable since they can:
Encourage a more strategic approach to content marketing by identifying the different types of content that fits the concerns and interests of your audience, so making it more relevant and sharable
Link content to products and services by mapping content against buying stages
Help create more engaging content assets such as whitepapers, blog posts and infographics by setting the right tone and style to appeal to different types of purchaser
Encourages integration of digital marketing with other channels, particularly if cross-channel personas are developed which map multichannel customer journeys
Gives a more objective method for deciding on content priorities since customer needs can researched rather than relying on manager's prejudices
What Should the Buyer Persona Definition Include?
The main requirements of the buyer persona are that it is accurate and be believable by those using it. This means that the definition should not only include a simple visual summary of the persona, but also list the research used. For a B2B buyer persona I recommend it includes:
Persona summary. Basic details about your ideal customer and his or her company including a name of the person and a summary of their characteristics.
Job details. Key job responsibilities, likes and dislikes about job
Main sources of information. Where your persona does his or her research
Goals. Persona's primary and secondary goals
Challenges and pain points. Your persona's challenges, and the emotions which accompany those challenges
Preferred content medium. How your persona likes to absorb content
Quotes. Bring your personas to life with actual quotes gathered during interviews
Objections. The objections you anticipate from your persona during the sales process
Role in purchase process. Persona's influence in the decision-making process
Marketing message. The messaging that speaks directly to this persona
Mapping prospect customer steps
Often persona definitions end here, but we find it's useful to relate personas to the buying journeys or stages and the actions or activities that the persona takes at each step. Then content can be developed to support each stage of the buyer journey as shown for these initial buying phases below.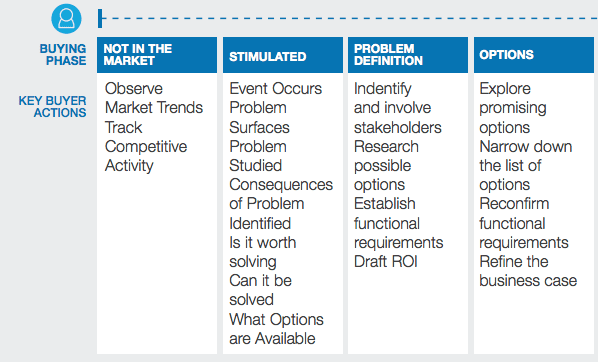 Thanks to Liz Smyth for sharing their advice and opinions in this post. Liz is Marketing Director EMEA, Marketo. You can follow her on Twitter or connect on LinkedIn.Read on: SmartInsights
Article Categories:
Media