Key SEO trends to plan for this year
The SEO industry can be treacherous – you never know when Google will roll out its next game-changing update.
For most SEO experts, every few days is another turning point that marks the need to review one's strategy. But even if you're that careful, there's still a chance that you'll miss one of Google's 500-600 updates in a year.
There's no sleeping on the job when it comes to SEO. If you want to secure your rankings, you need to be vigilant, adaptive, and aware of the ongoing trends in the world of search engines.
Based on the updates observed last year, here are some of the trends you can expect to continue for the rest of 2017:
The Rise of Google's Rich Answers
SEO isn't just about snagging the top position anymore. Google has a special place on top of SERPs (Search Engine Results Pages) for content that's optimized for rich answers.
A recent study by Stone Temple reveals that the volume of rich answers in SERPs has doubled since December of 2014: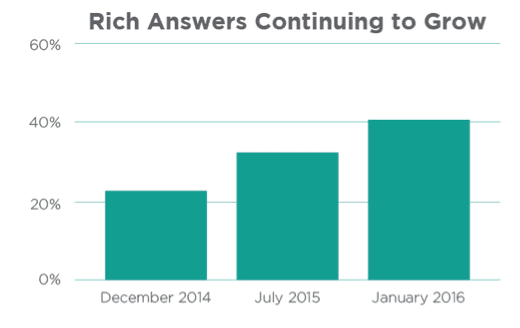 Image source: Google Direct Answers in Search Continue to Grow – Stone Temple
Rich answers work by extracting metadata from your content and use the information in a visual "Answer Box." This can be used in many forms such as event schedules, maps, charts, and recipes.
How to leverage Rich Answers:
If you want to leverage rich answers to reap the full benefits of your SEO, make sure you:
Rank highly in your target query – The likelihood of your content to appear in rich answers directly correlates to its current rankings. Remember the basics such as including your key phrase in the page's header, metadata, and alt tags.
Address questions – The idea behind rich answers is to provide users with quick, definitive answers. Target queries that begin with "how" "why," "where," "when," and "who" when doing keyword research to boost your content's relevance. Also, pay attention to Google search recommendations to know what users are asking.
Use the right tags – Lastly, use the <h1> tag for the question you want to answer. For separate sections, use the <li> tag for each list item.
The Entry of Accelerated Mobile Pages (AMP) and Its Drawback
AMP is by no means a ranking signal, but it's clear that it was designed with the best intentions – to provide faster browsing experience to mobile users.
Studies show that websites that use AMP can get up to 4x faster-loading speeds while using 10x less data than regular pages. Although it doesn't affect your rankings directly, it does improve your site's average session duration and bounce rate, which are critical for attaining higher positions in search results.
AMP has seen impressive adoption rates by the final months of 2016. However, some report getting a lower click-through rate (CTR) for "AMPed" pages.
According to Glenn Gabe of G-Squared Interactive, some AMP-enabled pages get lower CTRs because most users don't know what the word "AMP" and the lightning icon mean in search results. So instead of clicking those pages, they are drawn instead towards listings that are indicated as "mobile-friendly."
Gabe supported this speculation with a simple poll: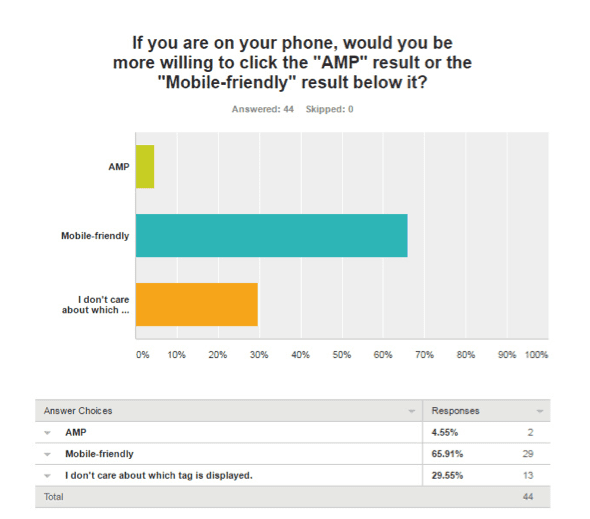 Image source: http://www.gsqi.com/marketing-blog/google-amp-survey/
"There's a chance that many users have no idea what AMP is. Also, there are "mobile-friendly" results right above or below AMP listings in SERPs, and it seems many are more willing to click the 'mobile-friendly" listings versus AMP," says Gabe.
How to leverage AMP:
AMP works by installing AMP properties into a website's HTML or JavaScript codes. Those who use a Content Management System like WordPress, however, can only rely on plugins such as Glue for Yoast SEO & AMP.
However, since AMP in itself is not a ranking factor, there is no rush for you to get your site AMPed just yet.
Aside from the pitfalls mentioned above when using AMP on your site, you also compromise your ability to build your site and track your website performance (if you are using analytics tools other than Google Analytics). If your prioritize building an email list and have a third-party analytics tool in place, then you may want to skip Google AMP for now.
Instead, focus on making simple website tweaks to speed up your site. Also, consider changing your site's theme to a mobile-friendlier and more responsive design.
"Although most themes don't slow down your blog significantly, it's still good to test it," says Robert Mening in this post. "To test a theme's speed, use the Pingdom Website Speed Test, enter the URL of the theme's demo, and see how long the page takes to load. If the load time is longer than three seconds, you might want to find a different theme"
2017 is The Year of Voice Search
Midway through 2016, Google CEO Sundar Pichai announced that 20% of all queries on the company's mobile app and Android devices are voice searches. With the continued development of virtual assistants like Apple's Siri and Microsoft's Cortana, more users are getting comfortable with speaking rather than typing.
Recent studies show that voice search queries grew exponentially since 2008:
If voice search can sustain its current growth, at least 50% of all searches will use either speech or images by 2020: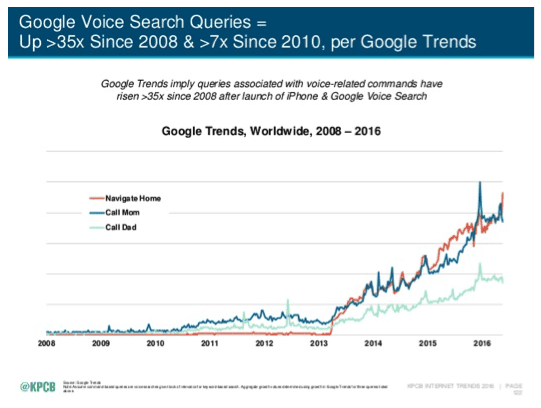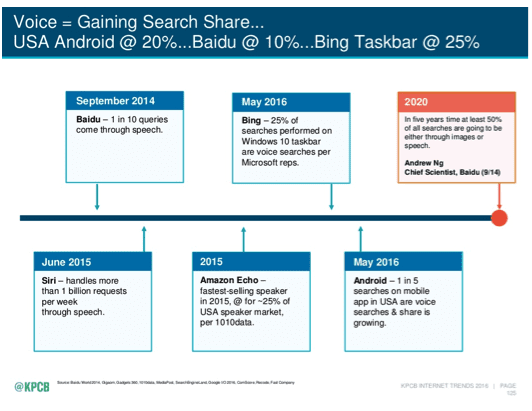 Data source: Internet Trends Report 2016
How to leverage voice search:
To adapt to the growing popularity of voice searches, SEO specialists need to rethink their keyword strategy and focus more on question-based queries with a conversational tone.
Think about it; rather than typing Neil Patel on Google, a voice search user would say "Who is Neil Patel?"
A tool like FAQ Fox can help you identify full queries done by your target audience. Simply key in the keywords that best describe the topic, specify a category, and determine the sites you'd like to check to see the results.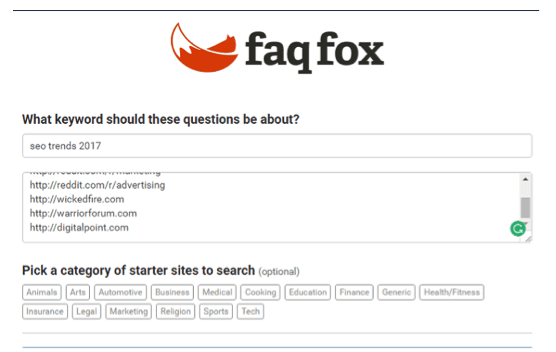 Once the results are in, it should be easy to identify which ones are doable via voice search: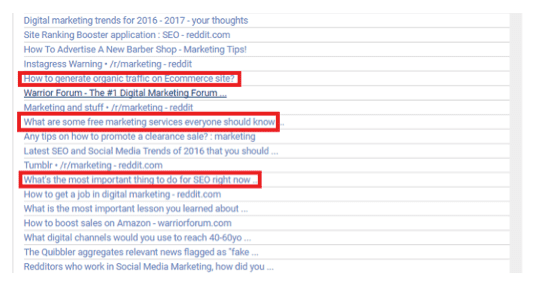 The "Bing" Threat
A lot of online marketers immediately think of Google whenever they hear "SEO" or "SEM." This is understandable given that the majority of online searches – whether through desktop or mobile – occur through Google. However, Bing has shown to be capable of carving its way into the search engine market little by little.

In the later months of 2016, Bing has powered around 20% of searches in the UK and up to 10% in the US. Sure, these numbers don't measure up to Google's shares, and the search engine market tends to shift from time to time, but when it comes to promoting your brand, you should always consider all avenues of exposure.
How to leverage Bing:
Optimizing for Bing search results is not at all different from optimizing for Google. Apart from the usual of building quality links, optimizing on-page elements, and offering quality content, don't forget the two steps below:
Claim ownership of your business in Bing Places for Business
Submit your site through Bing's Webmaster Tools
Conclusion
Staying ahead of everything that happens in the industry is vital for any SEO campaign. Hopefully, the trends listed above can help you forge a better direction for your SEO strategy this 2017.
What other SEO-related news are you worried about for the upcoming months? Share them in the comments below!
Thanks to Christopher Jan Benitez for sharing their advice and opinions in this post. Christopher Jan Benitez is a professional content marketer and writer. He has helped small businesses achieve their goals by implementing a strong content strategy that emphasizes their unique selling points and promoting created content using effective online channels and methods, in particular social media marketing and search engine optimization techniques.Read on: SmartInsights
Article Categories:
Media