Facebook announced the US launch of a new 'Jobs tab' and will let users apply to jobs via Facebook
At $247 dollars per user, LinkedIn makes almost double what Facebook does from each of its members. Facebook is a much larger player because it has many times the number of users, but Facebook still probably looks enviously at LinkedIn's value per user. A large part of why LinkedIn users are so much more valuable is because LinkedIn is built around applying for jobs. Many industries are having to compete fiercely for talent at the moment with unemployment at or near historic lows in the US and UK. This makes the ability to search for and hire talent highly desirable for companies of all sizes, and Facebook's latest move shows they clearly are wanting to capitalize on this.
Job posting and application directly on Facebook.
As of February 15th businesses pages on Facebook in the US and Canada will be able to create a new post type; 'job posts', and potential employees will be able to see these postings in a dedicated 'jobs tab', as well as the usual newsfeed.
Users can apply directly to these job posts, rather than being directed to a different site to complete the application. The business can see these applications in the businesses messages tab. It's all designed from a mobile first perspective, which makes quick and easy job applications from your phone a reality. For that reason it may be that Facebook corner the market in low-skill jobs that don't require lengthy application processes, whilst LinkedIn retains its lead in the higher skills job market.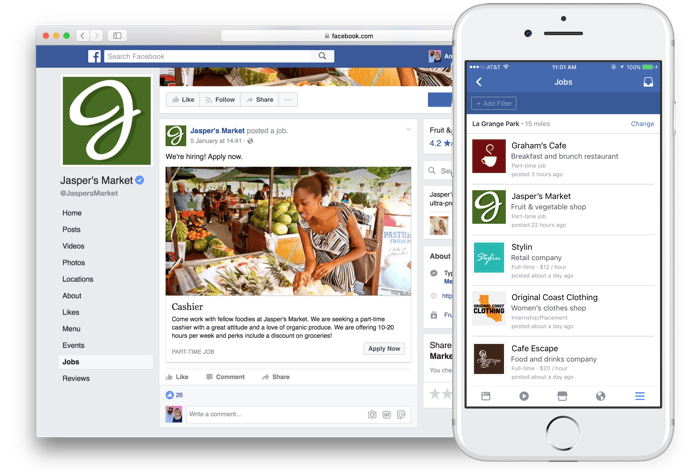 Facebook are testing the new features in the US and Canada at the moment, but are likely to roll them out worldwide if they are successful. The 'job post' post type can be 'boosted' (where you pay to reach more people than it would organically) just like other types of Facebook post. Because businesses are competing for talent, it is likely to become a significant revenue generator for Facebook, especially with organic page reach so low that the platform is essentially 'pay to play'.
Article Categories:
Media