Leverage the power of the cloud to achieve better insights
The era of the cloud is in full swing. Cloud-based analytic platforms are driving automation and improving the predictive accuracy of marketing programs across all sorts of industries. With these platforms at their disposal, marketers can solve some of the key challenges that have daunted them for years, like connecting data, reporting, gathering insights, making decisions, and optimizing marketing programs.
In 2015, Gartner removed big data as an emerging technology trend, citing the fact that it has become prevalent in our lives and hence is no longer an emerging trend. Yet, McKinsey claims that less than 30 percent of the data's value is being captured across industries. Big data's applications will only grow as its true potential has yet to be fully tapped.
Making Decisions at the Speed of Business
Shifting to the cloud isn't a set-it-and-forget-it proposition. It still comes down to the quality of your data — and your ability to gain insights from it. Cloud-based analytics platforms can't solve data gaps or fix corrupt data. They can't correct measurement errors or tell you which metrics to focus on. All of that still comes from you and your team.
Instead, these platforms allow you to measure and track KPIs and to continually expedite the gathering and reporting of whatever metrics you choose to track. From a marketing perspective, the key benefits of cloud-analytics centre on:
Real-time optimization
By tracking customers, orders, or sales in real time, you can finally get away from those weekly or monthly KPI reports. Rather than waiting for the end of the month to set strategy, you can pivot your marketing execution almost daily, on the basis of up-to-date performance metrics. Instead of looking at past performance and tweaking future execution — with a big-time lag in between — you can finally start to optimize the present.
Real-time personalization
By tracking customer engagement across channels at the time of transaction, you can also serve up the right content, experiences, or media impressions to the right person at the right time — and through the proper medium.
In the past, such personalization was driven by A/B testing, which can take weeks to find the perfect combination of message, offer, and call to action necessary for conversion. With cloud-based analytic platforms, such large-scale tests can be run constantly, allowing you to apply your insights without delays.
Real-time scoring
Marketing organizations spend considerable time and effort building predictive models for campaigns. But with changing customer behaviors and volumetric data challenges, it's often not feasible to update and deploy these static models in a timely manner.
By leveraging cloud-based modeling tools, you can make predictive models run constantly in the background. At any given time, the entire customer database is scored with all available data. You can access the information necessary to predict how consumers will respond to a given message and then adjust accordingly.
And with 86 percent of companies reporting increases in ROI through predictive marketing, cloud-based analytics platforms aren't just something to throw on your road map a year from now — they're essential to competing in the business world today.
A Competitive Lever
While speed, modernization, and simplicity of use are all important, one objective ranks higher for more than 47 percent of IT departments in large organizations: cutting costs. In fact, moving from static reporting to cloud-based solutions can lead to significant cost savings for most teams.
While marketers are eager to adopt cloud-based analytics to drive better insights and results, the key imperative for IT teams is to reduce cost and overhead across the enterprise. When marketing and IT teams work together to realize the benefits of better agility and lower cost, rather than work against each other, we often see rapid migration and adoption of such systems.
In addition to reducing overhead and cost, cloud-based analytics also drive democratization of data within organizations. KPIs and insights that were bound in spreadsheets and reports can now be accessed by anyone in an organization to unlock value. Such platforms can often be the key to breaking down silos among marketing, sales, operations, finance, and other teams within a company.
Take Finish Line, for example. The athletic apparel retailer combines online and offline data to better understand the touchpoints with its customers. By gathering and tracking everything from beacons and loyalty data to point-of-sale and social streams, Finish Line personalizes its interactions with consumers to not only convert, but also upsell.
With the power of the cloud, businesses can apply insights to market faster than the competition. In a 2015 survey, 57 percent of organizations saw improvements in decision-making after executing cloud analytics, with even greater improvement in collaboration and response time to customer requests.
Predictive analytics using real-time data connects marketing with sales, links operations with management, and even shows the company where to build its next stores. When properly utilized, it has the potential to drive transformational change across the enterprise.
3 Organizing Principles to Get Started
For organizations looking to drive value from cloud-based analytic platforms, here's what you need to get started:
1. Set some data standards
In the road to actionable insights, if your analytics platform is your engine, then data is its fuel. After all, predictive models will only function as well as the data you feed into them. Make sure your input is as clean and well put-together as possible. After all, it's garbage in, garbage out.
Check that your enterprise or marketing data warehouses can feed data into your analytics platform in real-time. The goal is to drive 360-degree connectivity across all consumer touchpoints. Make sure to connect only those data sets that drive insights and impact the customer experience, not every byte of your warehouse. Certain data stores that are not mission-critical — and those that do not directly influence your marketing decisions — do not have to be fed real-time or linked to your analytical engine.
2. Measure what matters
Just because you can measure and report on something doesn't mean you need to build a KPI to track it. Be specific and frugal with the numbers you report and track, focusing only on the core metrics that drive your business. Ask yourself whether a certain metric will help your team make better marketing decisions.
Remember that the more metrics you squeeze into your dashboard, the less likely it is that users will be able to focus on core KPIs. Keep it simple by measuring and managing only what matters. Building a dashboard with every metric conceivable will only end up confusing your audience.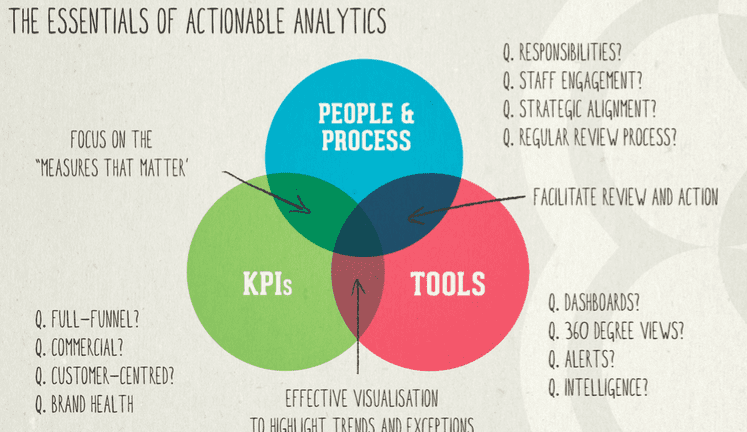 3. Make decisions faster
Making faster decisions does not imply making hasty decisions, but most marketers need to shorten their test-and-learn cycles. Most managers don't make bad decisions with good data — they make bad decisions with bad or missing data. As long as your analytical engine can deliver good data and insights, expect your team's decisions to get better over time as well.
Good managers and executives are adept at looking at KPIs and deciding how to evolve marketing strategy based on insights. However, while they do this innately, it's important to empower your team and partners to make bold decisions based on the data. It's about being agile and applying insights from cloud-based platforms to drive future decisions.
In an era of disruptive technology, it's not the big that will eat the small, but the fast that will eat the slow. Leverage the cloud to personalize, optimize, and predict the best way to interact with and market to your consumers.
Thanks to Vignesh for sharing their advice and opinions in this post. Vignesh Clingam is the SVP, Decision Sciences at agency RAPP. Vignesh believes in the power of data to enrich the human experience. n.Read on: SmartInsights
Article Categories:
Media