Increase your organic traffic this new year with these future-proof SEO tactics
Search engine optimisation is a constantly changing field, one that requires effective planning and actionable tactics to succeed.
This post is aimed at those who have a fast website, perfect on-page SEO and a good site structure, yet are looking for ways to take your website to the next level.
In this post, we'll reveal our top 5 eCommerce SEO tactics that you need to implement in 2017. Allowing you to remain ahead of the competition and drive targeted traffic to your website.
1. Competitor Backlink Analysis
A competitor backlink analysis is one of the most simple, yet effective e-commerce tactics you can undertake. In short, you look at your competitors' backlinks and see how you can also gain similar links.
If done properly, this can allow you to uncover patterns, problems and opportunities, simply from analysing the links your competitors have already built!
One of the best ways to do this is to enter your competitor's domain into tools such as Majestic or Moz's Open Site Explorer. This will provide you with all the backlinks that your competitors have built to their website.
In short, the aim is to take a deeper look at your competition's links and ask yourself:
What has worked for our competition?
Are there any patterns?
Is this something we can do, but better?
For example, your competitor appears to regularly feature authoritative guest authors on their blog. The author has a popular presence in your industry and are experts in a certain niche. If these posts are gaining many diverse and high-quality links from other blogs, you could look to do the same.
Similarly, if you sell kilts and your competitor is linked to from a variety of websites that list kilt suppliers, you can look to approach these sites and ask for a link.
Overall, carrying out a competitor backlink analysis gives you an idea of how competitors are building links in your industry. This can help you create a link building strategy, and it can also save you a lot of time by the "stealing" the links they've worked hard to build.
2. Featured Snippets
Featured snippets have become extremely important for SEO. By focusing on featured snippets, you can greatly improve the search appearance of your website.
So, what exactly is a featured snippet?
A featured snippet shows the summary of an answer to a user's search query. It's displayed at the top of the search results page and it's been referred to as position #0.
This can enhance your brand's search visibility, as not only will you appear in the top spot, it provides the opportunity to occupy two positions on the first page of the search results.
An example can be found below: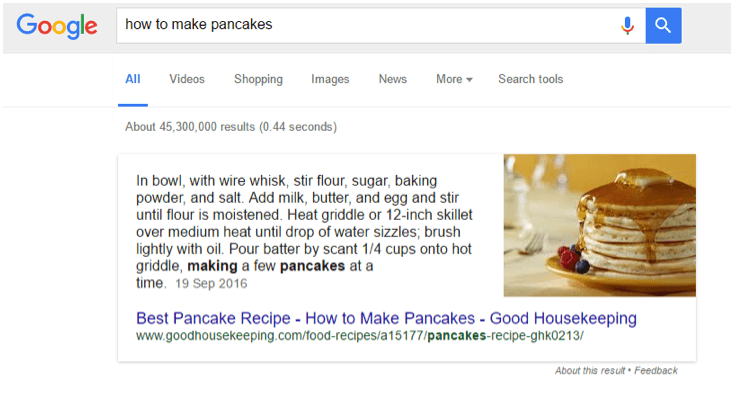 This is an effective, yet simple way to compete with other brands in your industry and is a tactic you should employ immediately.
How do I get a featured snippet?
Optimising your site for featured snippets is fairly simple. You need to identify a question searched by your target audience, provide a clear, concise answer to this question and set this up so search engines can find it easily. Most commonly featured snippets are displayed as lists, graphs or tables.
Rob Bucci recently spoke about the importance of featured snippets at Brighton SEO. He highlights how to earn more featured snippets. He stresses the importance of keyword research when considering featured snippets, and the need to research the most popular formats for feature snippets related to your target search query – whether this be tables, lists or other.
Rob Bucci also highlights that Google use featured snippets for a reason, they're important as they enhance user experience. And as voice search advances and becomes more popular, featured snippets will play a more important role.
If you're a Moz Pro customer, here is a handy step-by-step guide on how to use their Keyword Explorer to find featured snippets relevant to your industry.
How will featured snippets help me?
Hubspot carried out a great study on how they received more clicks through to content that appeared in the featured snippet compared to content that didn't.
So, there you go, featured snippets will help increase traffic to your site – what more could you want?
In the fast-paced, ever-changing world of SEO, it's vital to keep up with changes to the SERPs. Therefore, featured snippets should most definitely be a tactic you utilise!
3. Create Linkable Assets
Put simply, a linkable asset is something you create that is of interest to your target audience and is therefore worthy of linking to.
I'm sure it's no surprise that creating linkable assets gets a mention in this post. Building links forms the basis of SEO and therefore, creating linkable assets will remain a vital e-commerce SEO tactic for the foreseeable future!
Linkable assets can take various forms. But, for this post, we'll focus on content. Creating valuable content that's relevant to your brand/industry, and is shareworthy, can effectively build a number of high-quality links to your website and improve your ranking positions.
This content needs to have a hook that makes it link worthy. The most successful content often provokes an emotional response in the user. Additionally, content that has a geographical angle can help to attract a broad audience and spark conversation.
Depending on your industry, budget, time and resources, this content can range from a helpful eBook to an interactive map using data. Whatever the content, it needs to be unique, newsworthy and credible, as the overall aim is to gain a high number of shares and/or links, driving targeted traffic to your website!
It's important that you closely base the content piece on the products your website sells. This will ensure that the websites that link to you are relevant and from within your industry, therefore, targeting your customers.
4. Community Engagement
Community engagement is an effective e-commerce SEO tactic that will allow you to understand more about your customers, their queries and their interests.
This is a broad tactic that can be approached in a number of ways. The main aim is to raise awareness of your brand whilst distinguishing yourself as an expert within your industry. You can do this through being present on platforms where your target audience hang out.
For example, search on forums and Q&A sites, such as Reddit or Quora, for problems and queries relating to your products. The aim is to help users to solve these queries through speaking to them and offering your expertise.
As always, don't be salesy when answering questions. Offer great advice and if there is a chance to link to your product, or a blog post you have written that adds value, then include it.
Another form of community engagement is blog commenting.
Now, you're probably saying "isn't that a spam tactic used many years ago?".
You're right!
But, if done correctly, it can be a great way to help prospective customers whilst also increasing brand awareness.
Rand Fishkin recently presented a Whiteboard Friday on the subject of community participation. You can check that out here.
Furthermore, you can use the customer's problems to create engaging content ideas for your own blog. This will help to further distinguish you as experts within your field and, potentially, gain extra search traffic.
5. Guest Posting
Guest posting can be a controversial term when it comes to link building. However, speaking directly to your audience by posting on another website's blog is still a valuable SEO tactic. So long as you avoid using this tactic in a spammy way to build low-quality links.
Research relevant, popular and high-authority websites within your industry and approach these for guest posting opportunities. As mentioned above, guest posting on sites such as this will help to build awareness of your brand, allow you to speak directly to your target audience and create engaging content whilst building relationships.
If done properly, this will help to distinguish you as an expert within your field, whilst increasing referral traffic to your website.
There are many tactics you can implement to improve your SEO. Following the 5 e-commerce SEO tactics above will help to build links, build brand awareness and drive targeted traffic to your website!
Thanks to Bachir Smahi for sharing their advice and opinions in this post. Bachir Smahi is a Director of the London based Magento ecommerce and digital marketing agency, Best Response Media. You can connect with him on LinkedIn.Read on: SmartInsights
Article Categories:
Media