What metrics are EMEA email marketers using to measure their campaign performance?
Following on from the launch of the "Wowing with Contextual Email Marketing" – Email Personalisation report yesterday, I found it interesting how marketers measure the success of their email marketing activities. No matter what type of dynamic content, contextual personalization or segmentation used, the metrics used are largely the same.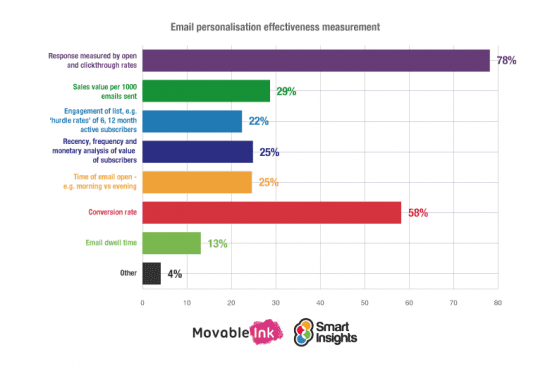 Most marketers use the basic metrics to measure success
78% of marketers are using Open Rates and Click-Through Rate
58% are using conversion rate
1 in 3 are using "sales value per 1000 emails"
Every other metric is used by less than 29% of email marketers
For more insight into the state of email personalisation in 2016, download your free copy of the report from our partners MovableInk.
The report also includes:
Which campaign types drive the most revenue. Welcome series, birthday promotions…?
Which targeting is most commonly used? Behavioural? Demographic? Contextual?
What metrics are used to determine campaign success
And much more!
Article Categories:
Media